About the Product
Benefits
How to Use
Sale price
$48
Regular price
(value )
Unit price
per
Sale
Sold out
View full details
Made by Women for Women
First protein powder of its kind designed to support women in all stages of menopause
15g of protein per serving
Maximizes the health of lean muscle and bone health
100% Organic. No added sugars, gluten, soy, nuts, or drama
Just 6 Ingredients
Vanilla Bean

A vanilloid with powerful antioxidant, anti-inflammatory effects. Helps to regulate hormones, reduce hot flashes and night sweats, improve mood and reduce stress.

Monk Fruit

A natural sweetener and sugar substitute, it's low in calories and anti-inflammatory, helping to keep blood sugar levels stable.

Brown Rice

Contains high amounts of amino acids and supports rapid muscle recovery and aids to accelerate metabolism and weight loss.

Wild Yam

Rich in phytoestrogens to restore hormone balance, high in diosgenin to improve digestion, relieve bloating and cramping.

Sea Moss

Known for its anti-aging properties with essential minerals, vitamins and fatty acids to balance hormone levels, and serotonin to improve mood. Improve skin elasticity with high antioxidant levels and protect against free radical damage caused by environmental stressors like UV radiation or pollution.

Kale

High in fiber, helps aid digestion and keep you feeling full longer. High levels of magnesium and potassium reduce risk of heart disease, high calcium content for bone health.
"I Love XO with oat milk and ice… I drink it after my long shifts at the bakery and it gives me so much energy for the rest of the day and to play tennis after work!"
- Sera Burton 52 years old Bakery Operations Manager/Tennis player
"I am loving the protein powder by XO/Jacqui! First of all, it tastes great. It's perfectly sweet, unlike most protein powders that are ridiculously over-sweetened. And second, I love the honest, simple, organic ingredients. I know exactly what I'm getting! It fills me up, makes me feel great, and it's pink!"
- Sarah Houseman 46 years old Personal Trainer/Dance Instructor
"The best even my hubby drinks it!! Xoxo."
- Deborah Herron 56 years old Entrepreneur & Athlete
"I'm a 53 year old mom who's doing all she can to keep up with her two active teenagers. This includes my XO shake with frozen yogurt, ice, almonds and bueberries! Easy and delicious!"
- Penny Fie 53 years old Mom
"Having had a hysterectomy I started menopause early in life. It's been a challenge to balance my system without using all those yucky additives. XOJacqui is not only delicious but makes me feel great! It gives me energy and that boost in protein I need to get through my day. I enjoy it simply with just almond milk and a tad cane sugar. And I love the fact that it's made by women for women!"
- Jenn P 40 years old Self Employed
"As a 50-year-old vegetarian recovering from a really hard health year, I know that getting enough protein to support my healing is super important. I love how clean XO / Jacqui is and when I have it for breakfast, it helps me feel good and steady all day long."
- Alana Sheeren Writer + Energy Wrangler alanasheeren.com
"My whole life I've hated that my hormones have such an affect on my workouts. By inviting them into the equation, I'm able be my strongest in the gym AND the most self-loving in supporting my biology."
- Kristen Smith 39 years old Graphic Designer
"Midday off-my-feet reboot😌 XO, almond milk and ice smoothie with a dollop of coconut whip."
- Lauri Dawson Mom
Target Muscle Strength and Bone Health
Goodbye Flab
Our protein powder is specifically formulated to support the health of your lean muscles and keep your bones strong, making it the perfect addition to your daily workout routine.
Bloating Be Gone
Feel lighter and more energized. Designed to be easy on the digestive system, so you can say goodbye to bloating and discomfort. Experience the freedom of a lighter, more energized body.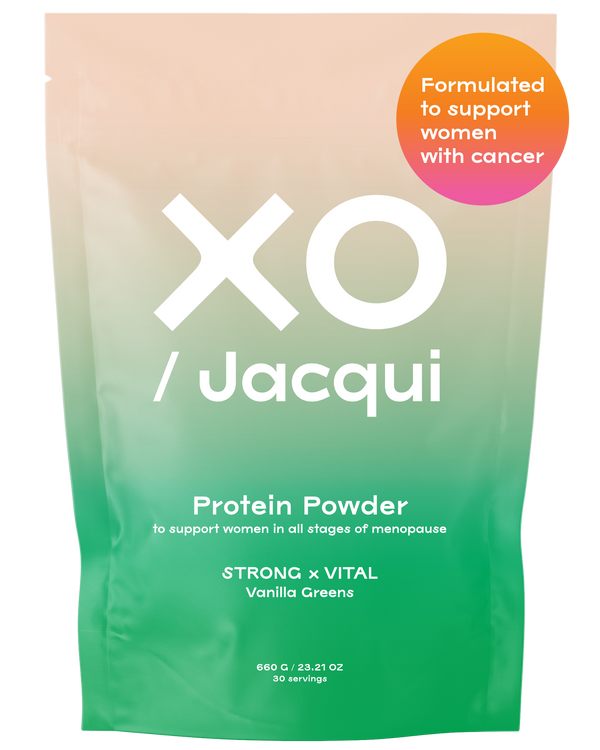 Target Hormone Health
A proprietary blend of six science-backed organic ingredients to balance hormones, and relieve inflammation.
Stay Strong
Protein is crucial for maintaining muscle mass and bone density, which can decline during menopause. Carefully formulated with organic ingredients that work in synergy to support bone health, muscle growth, and hormonal balance.
Total 5 star reviews: 1
Total 4 star reviews: 0
Total 3 star reviews: 0
Total 2 star reviews: 0
Total 1 star reviews: 0
100%
would recommend this product
Jennifer m.

Verified Buyer

Awesome protein powder

Been using it for a week and so far I have been feeling really good. I no longer feel bloated all the time and I feel calmer as well.
Reviews Loaded
Reviews Added