About the Product
Benefits
How to Use
Sale price
$48
Regular price
(value )
Unit price
per
Sale
Sold out
View full details
Made by Women for Women
First protein powder of its kind designed to support women in all stages of menopause
15g of protein per serving
Maximizes the health of lean muscle and bone health
100% Organic. No added sugars, gluten, soy, nuts, or drama
Just 6 Ingredients
Berry Pomegranate
Mini Protein Powder

Blueberry
Pomegranate
Beetroot
Brown Rice
Chasteberry
Monkfruit

Cacao Wild Yam
Mini Protein Powder

Cacao
Wild Yam
Beetroot
Brown Rice
Chasteberry
Monkfruit

Vanilla Greens
Mini Protein Powder

Vanilla Bean
Kale
Sea Moss
Wild Yam
Brown Rice
Monkfruit
Target Muscle Strength and Bone Health
Goodbye Flab
Our protein powder is specifically formulated to support the health of your lean muscles and keep your bones strong, making it the perfect addition to your daily workout routine.
Bloating Be Gone
Feel lighter and more energized. Designed to be easy on the digestive system, so you can say goodbye to bloating and discomfort. Experience the freedom of a lighter, more energized body.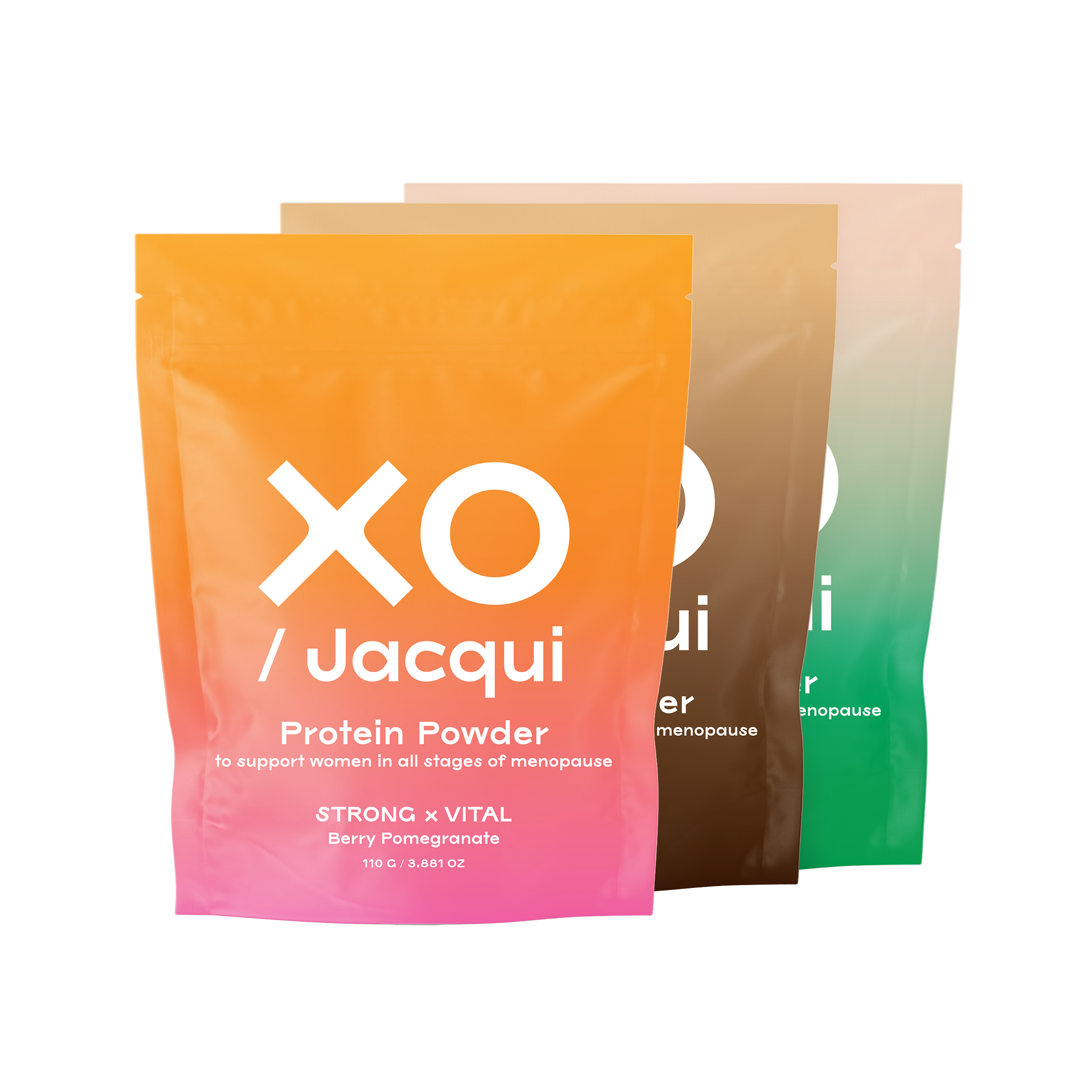 Target Hormone Health
A proprietary blend of six science-backed organic ingredients to balance hormones, and relieve inflammation.
Stay Strong
Protein is crucial for maintaining muscle mass and bone density, which can decline during menopause. Carefully formulated with organic ingredients that work in synergy to support bone health, muscle growth, and hormonal balance.
"I Love XO with oat milk and ice… I drink it after my long shifts at the bakery and it gives me so much energy for the rest of the day and to play tennis after work!"
- Sera Burton 52 years old Bakery Operations Manager/Tennis player
"I am loving the protein powder by XO/Jacqui! First of all, it tastes great. It's perfectly sweet, unlike most protein powders that are ridiculously over-sweetened. And second, I love the honest, simple, organic ingredients. I know exactly what I'm getting! It fills me up, makes me feel great, and it's pink!"
- Sarah Houseman 46 years old Personal Trainer/Dance Instructor
"The best even my hubby drinks it!! Xoxo."
- Deborah Herron 56 years old Entrepreneur & Athlete
"I'm a 53 year old mom who's doing all she can to keep up with her two active teenagers. This includes my XO shake with frozen yogurt, ice, almonds and bueberries! Easy and delicious!"
- Penny Fie 53 years old Mom
"Having had a hysterectomy I started menopause early in life. It's been a challenge to balance my system without using all those yucky additives. XOJacqui is not only delicious but makes me feel great! It gives me energy and that boost in protein I need to get through my day. I enjoy it simply with just almond milk and a tad cane sugar. And I love the fact that it's made by women for women!"
- Jenn P 40 years old Self Employed
"As a 50-year-old vegetarian recovering from a really hard health year, I know that getting enough protein to support my healing is super important. I love how clean XO / Jacqui is and when I have it for breakfast, it helps me feel good and steady all day long."
- Alana Sheeren Writer + Energy Wrangler alanasheeren.com
"My whole life I've hated that my hormones have such an affect on my workouts. By inviting them into the equation, I'm able be my strongest in the gym AND the most self-loving in supporting my biology."
- Kristen Smith 39 years old Graphic Designer
"Midday off-my-feet reboot😌 XO, almond milk and ice smoothie with a dollop of coconut whip."
- Lauri Dawson Mom
Total 5 star reviews: 4
Total 4 star reviews: 2
Total 3 star reviews: 0
Total 2 star reviews: 0
Total 1 star reviews: 0
100%
would recommend this product
anastasia h.

Verified Buyer

Love XO

Followed the 3 recipes , and just love everyone of the the protein shakes

Looking forward to the other product.

Ana

Michelle O.

Verified Buyer

This may be just what I was needing

I have been in search of something for my hot flashes. I saw this protein powder as an ad on Instagram and decided to give it a try. First of all, I will say ordering and delivery times are super-fast! The product shipped out on the same day I ordered. I ordered on a Friday, received the product on Tuesday. I started using the product the next day. I have been using this protein in my smoothies every morning for the past 2 weeks. The other day, it dawned on me...I have not had a hot flash in 5 days! It is the XO Jacqui?? I will continue use and see.

Great introduction to products

Best way to try these products. You'll quickly find your favorites!

Mini Pack XO

I really like the mini pack variety ! I love that it was all plant protein-based and the powder goes into dissolution quickly. My favorite was the vanilla. When I drink it first thing in the morning, it really gives me the energy my body needs and I feel good! Thanks XO, Angie

XO Jacqui

1 month ago

Thanks Angie,

We love to know how our customers are making there smoothies. What are you adding to yours? We would love to know. XO, Jacqui

Delicious

Previously, I had only purchased the berry pomegranate flavor. The mini-pack afforded me the opportunity to try the other flavors. I enjoy all three. They add variety to my routine and the travel size pouches are handy!
Reviews Loaded
Reviews Added